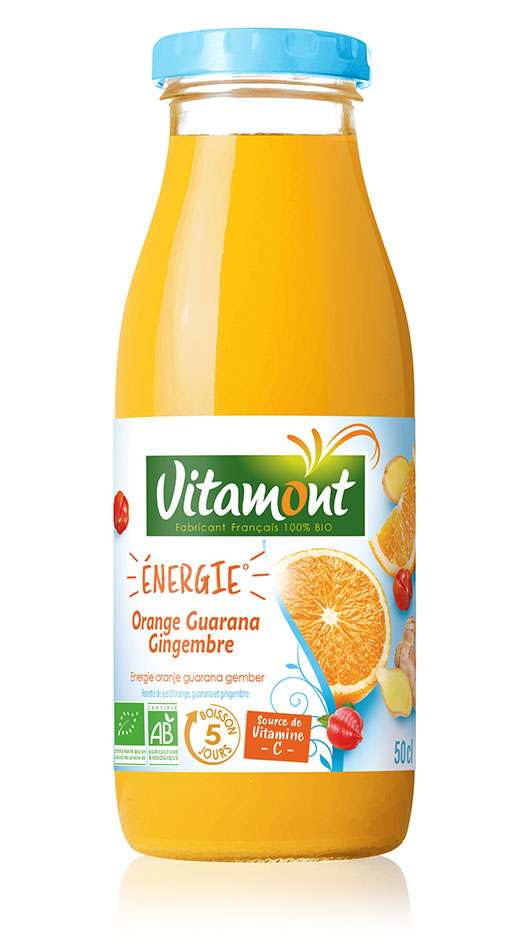 Energy juice – orange guarana ginger
You feel tired ? Discover the Energy Booster, a drink source of vitamin C, with a delicious taste of sweet orange enhanced by energizing notes of ginger.



The Advantages:
> Natural Source of Vitamin C
> Helps reduce fatigue
> Fruit juice rate of at least 50%
> Ideal in cure of 5 days: drink 10cl each morning as it is or diluted
> Without added sugar
Available Sizes:

still hungry ?
in this category
still thirsty ?
in this category
Nutritional Values per 100ml/100g
Volume: 50cl
Ingredients: Orange juice* (75%), water, aqueous guarana extract* (2.8%), ginger juice* (2.2%).
*From organic farming.
Conservation advice: Refrigerate after opening and consume within 5 days.
Gencod: 3 289196700056
Nutritional Values per 100ml/100g
Energy: 111kj (26kcal)
Fat: 0g
of which saturates: 0g
Carbohydrates: 6,5g
of which sugar: 6,5g
Fibers: <0g
Proteins: 0g
Salt: 0g
Vitamin C: 12mg