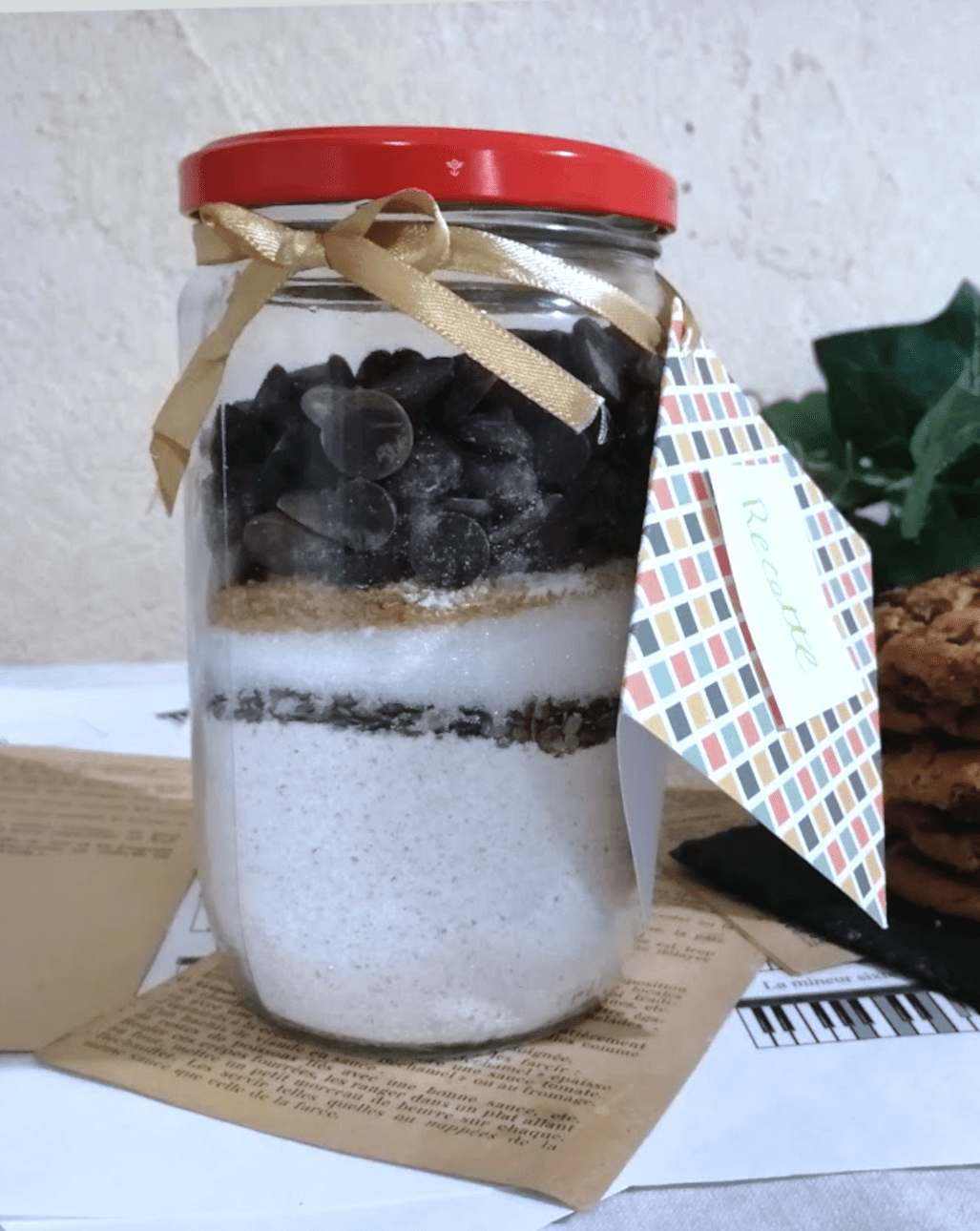 – 1 Mamie Bio organic fruit dessert
– 150g flour (of your choice)
– 85g of sugar
– 1 sachet of vanilla sugar
– 1 tsp baking powder
– 1/2 tsp salt
– 50g oatmeal and roasted seeds
– 100g chocolate chips, or other filling of your choice
– Patterned paper
– Ribbon
– A hole punch
1 – Remove the label from your jar with hot water.
2 – Clean and dry your jar (inside and outside)
3- Using a funnel, insert into your bottle, in the following order: the flour, sugar, vanilla sugar and salt, the mixture of oats and seeds, then the chocolate chips. For regular layers, pat your jar on the counter between each added item.
4- Close the jar
6 – Cut a rectangle 15 cm wide and 7.5 cm high in your pattern paper
7- Fold the paper in half, and perforate it on the upper left corner, at the fold, leaving about 5mm on each edge.
8- On the inside, specify the following recipe:
Preheat your oven to 180 ° C. In a container, pour your cookie preparation, add 85g of softened butter, 1 beaten egg, mix everything, then form balls with the dough. Place them on a baking sheet, and bake for 10 minutes.
9- Cut a piece of ribbon about 25cm long.
8- Tie your paper label around the jar using your piece of ribbon, previously cut.
You can decline this for several other types of cakes, brownies, shortbread …