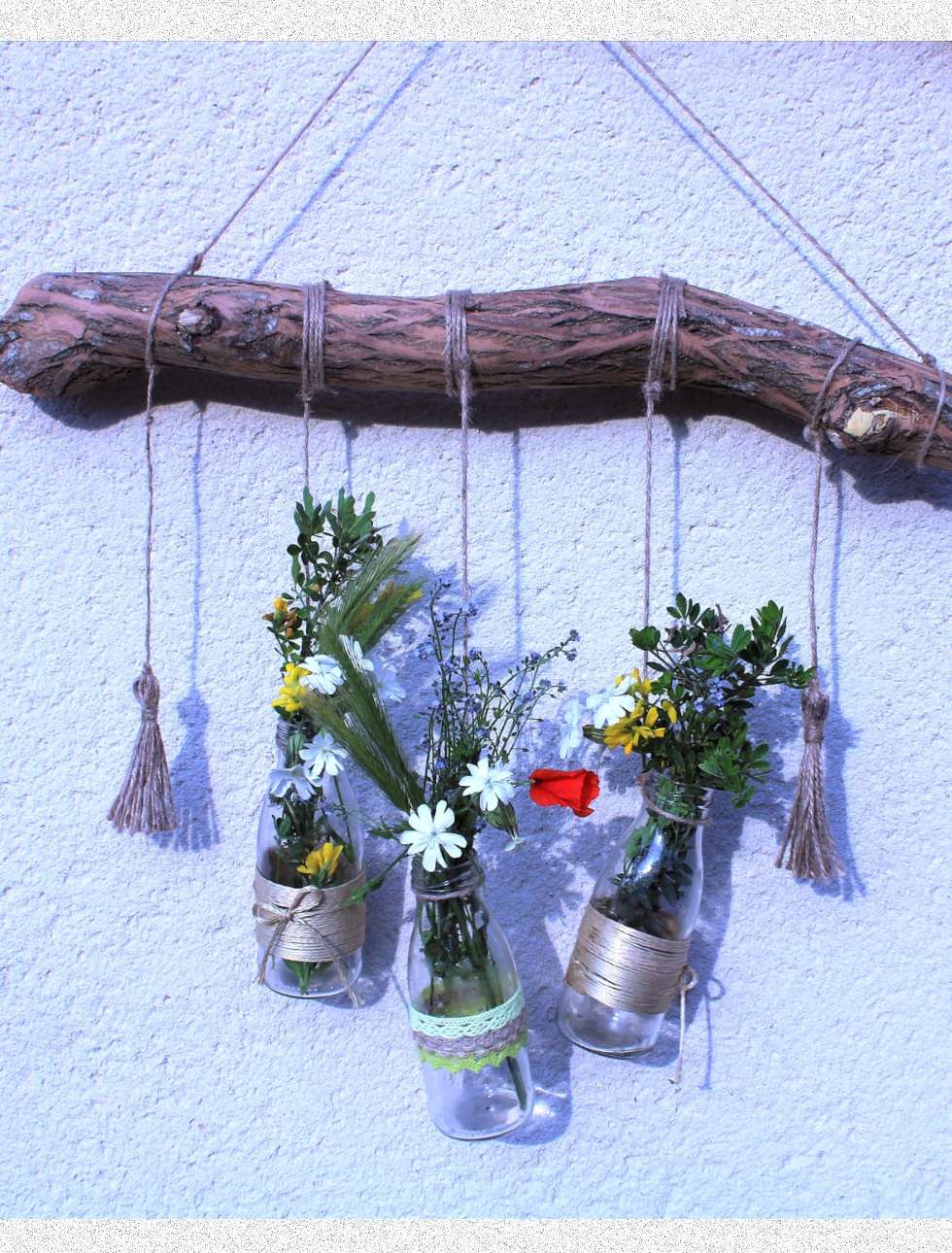 3 empty and clean 25cl bottles

1 branch of driftwood about 60cm long

About 3 meters of jute twine


About 1.70 meters from raffia

Self-adhesive tapes in 3 different colors

Eco-friendly liquid glue

Two pompoms
1- Cut your raffia into 2 parts of about 60cm, and 2 parts of about 17cm.
2- Put a point of glue towards the middle of your first bottle, and wrap one of your 60cm raffia twine on top. As you roll up, add glue.
3- Once your raffia is wrapped, add one of the two portions of rafia of 15cm, and make a bow tie in the middle.
4- Repeat steps 2 and 3 on a second bottle.
5- Bring one of your self-adhesive tapes and surround the last bottle with it. Do the same with the other two stripes of auto adhesive tape.
6- Cut your jute twine into 3 pieces of about 50 cm, 2 pieces of 30 cm, and 1 piece of about 80 cm.
7- With one end of the 50cm jute twine portions, circle the bottles just below the necks  and tie a knot.
8- To consolidate everything, add a stitch of glue on the knot, as well as on the twine.
9- Wrap the other end of the 50cm twine on the branch (about 4 turns) to connect the bottles to the branch. Tie a knot, which you will consolidate with glue as before.
10- Tie your two 30cm portions of jute twine on the branch on either side of the bottles, then hang your pompoms there.
11- Tie your last piece of 80cm at both ends of the branch, making knots, which you will consolidate with a stitch of glue. This twine will serve as a suspension.
Enjoy your walks in the forest to appreciate the beauty of nature and choose what to make your future decorative objects.