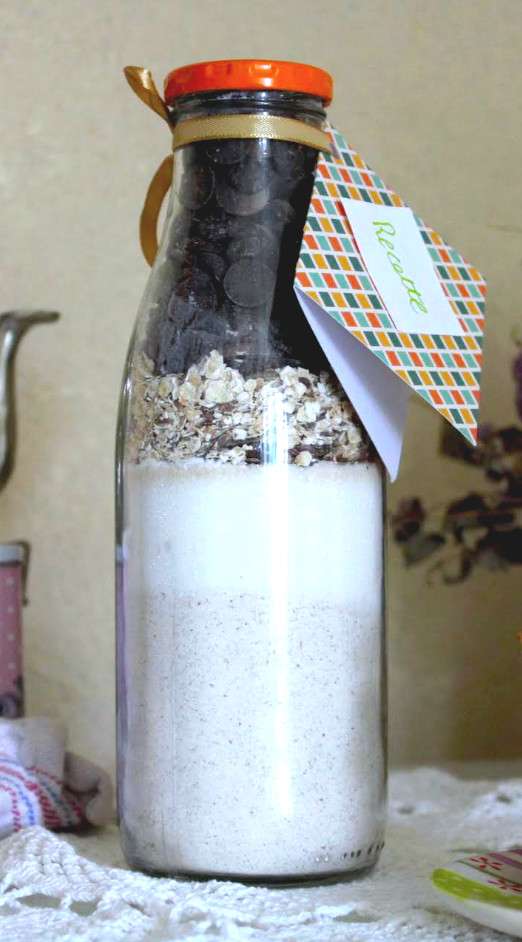 The Express cookies bottle
– A Vitamont 75cl bottle
– White paper
– Patterned paper
– Felt pens
– A pair of scissors
– Jute twine
– A nice piece of fabric
– 200g of flour
– 200g of brown sugar
– 1 pinch of salt
– 1 sachet of vanilla sugar
– 1 tbsp. yeast
– 100g of chocolate chips
1- Remove the label from your bottle with hot water.
2- Clean and dry your bottle (inside and outside)
3- In a bowl, mix the flour, yeast and salt
4- In another container, mix the vanilla sugar and brown sugar
5- Using a funnel, place half the flour/yeast/salt mixture inside the bottle, then half the sugar mixture, then half the chocolate chips. Repeat these steps with the remaining ingredients.
6- Cut a 13 cm wide and 11 cm high rectangle in your patterned paper
7- Cut a rectangle of 9 cm wide and 7 cm high in your white paper.
8- On the white paper, write the title and the ingredients to be added to the cookies, i.e. 2 eggs and 100g of soft butter.
9- Glue the white paper in the center of your patterned paper, then glue it to your bottle
10- Cut your fabric into a 15x15cm square and cover the bottle cap with it, then secure it with the jute string.
You can decline this for several other types of cakes, brownies, shortbread…