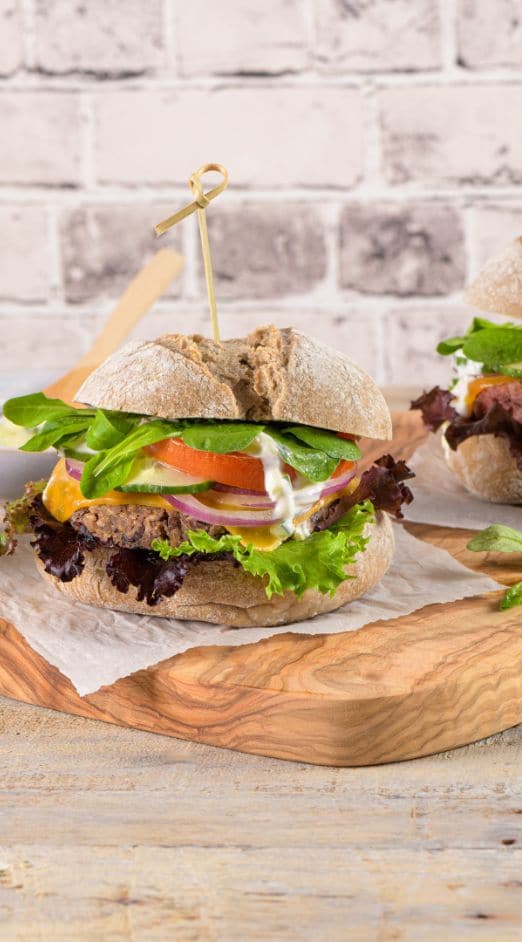 Burger with vegetable spread Green Olives
2 burgers
5-6 minutes
40 minutes
The burger:
– 2 burger buns
– 1 pot of vegetable spread Green Olives
– 1 tomato
– 1/2 cucumber
– 1 red onion
– Cheese
– 2 rocket handles
– 2 handfuls of oak leaf
– 1 tbsp of vinaigrette
Vegetable lentil steak:
– 250g of natural and drained lenses
– 1 onion
– 2 carrots
– 1 tbsp of cornflour
– 60g of flour
– salt and pepper
For vegetable lentil steak:
1- Peel the onion and carrots and then cut them into pieces. Mix everything in a blender.
2- Add the drained lentils, salt and pepper and mix again. Do not mix the lentils completely to avoid a slop texture.
3- Pour the preparation into a bowl and add the corn and then the flour. Mix well with a wooden spoon. Add flour if the texture is too "liquid". With wet hands, you need to be able to form palet.
For the burger:
1- Cut the burger breads in half and place on each of the pieces the Vegetable Spread.
2- In a frying pan, cook the lentil steaks with oil, turning them regularly. Turn the lentil preparations one last time and place a slice of cheese on each of them.
3- Arrange on the lower part of the bread a handful of oakleaf lettuc. Then add the vegetable steak, the sliced red onions, the cucumber slices and then tomatoes. Finally, place a handful of arugula and reposition the top of the bread.
If the steaks are too fragile before cooking, place them for half an hour in the cool. You can also replace the vegetable steak with a beef steak.