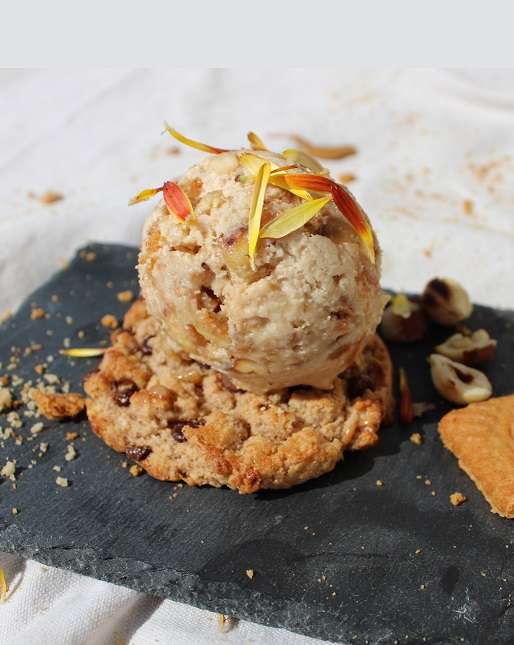 Speculoos spread ice cream
6 personnes
6 minutes
30 minutes
– 20g blond sugar
– 10g butter
– 50g maple syrup
– Some unsalted peanuts
– 450g whipping cream 30% fat
– 220g Mamie Bio Speculoos Spread
– 200g sweetened condensed milk
– 100g Speculoos cookies
1 – Start by melting the butter, sugar and maple syrup in a saucepan to make a caramel, let it simmer for 3 to 5 minutes while stirring, then turn off the heat.
2 – Once the caramel is smooth, add the peanuts previously roasted and crushed, and let simmer for 2 to 3 minutes so that the peanuts caramelize.
3 – Set aside and let cool.
4 – With the 30% fat cream, make a whipped cream with your mixer. The mixer, the container, and the cream must be well cold so that the whipped cream rises properly.
5-Stir the condensed milk (also cold) into the whipped cream using the mixer.
6-Incorporate the spread in the same way.
7-Add the cold caramelized peanuts, a few pieces of crushed Speculoos and mix gently.
8 – Put your ice cream in an ice tray, add the rest of the crushed Speculoos on top, and leave to rest in the freezer for at least 5 hours.
For the most greedy ones, add a drizzle of Mamie Bio salted butter caramel before serving, and petals of marigold flower for the decoration !