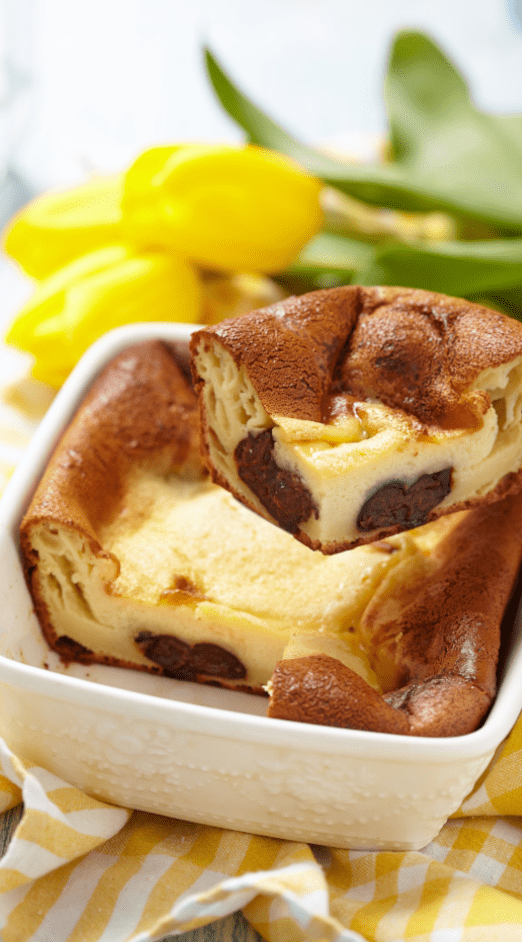 – 1L of water
– 2 bags of Green Tea Ginger Lime
– 18g Amber Rum / Brown Rum
– 5 eggs
– 100g of powdered sugar
– 80g of flour
– 1/2L. of whole milk
– 1c.c liquid vanilla extract
– 450g of pitted prunes
For prunes:
1- In a saucepan, boil the water.
2- In a container, add the tea bags and then pour the boiling water. Let infuse for about ten minutes.
3- Remove the tea bags and add the rum. Let the water cool down before adding the pitted prunes. Let stand for 2 hours at room temperature.
4- Place the prunes in a strainer to remove excess water while preparing the rest of the recipe.
For the far:
1- Preheat the oven th.6 (175 ° C) in rotating heat preferably.
2- In a saucepan, cool the milk, over medium heat.
3- In a bowl, whisk the eggs with the powdered sugar, using an electric mixer. The mixture must have bleached and foamed.
4- Stir in the flour, warm milk and vanilla extract. Mix the whole well with the help of a whisk.
5- Place the prunes, on the entire surface of the mold. Cover them with the preparation and bake for 45 minutes.
The recipe can also be made without rum.