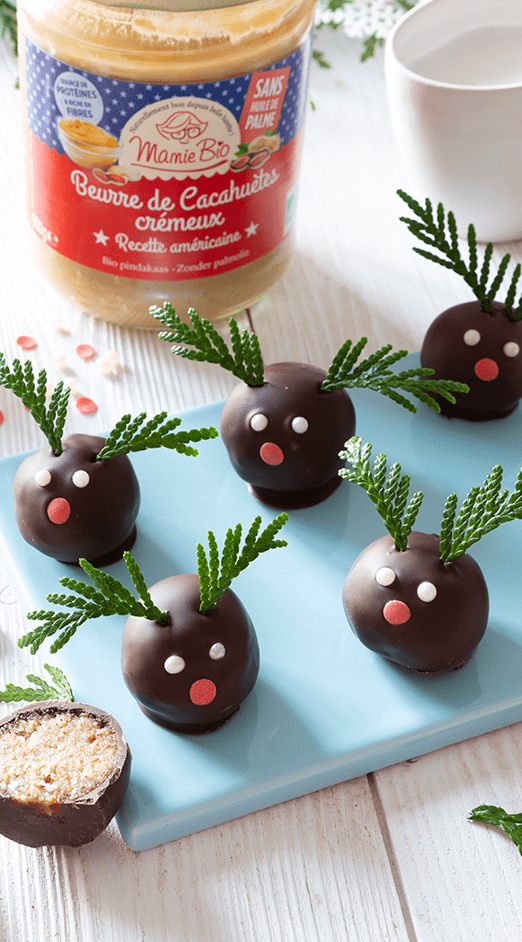 Peanut butter energy balls
6 personnes
5 minutes
50 minutes
For 16 energy balls:
50g Mamie Bio creamy peanut butter
100g powdered almonds
25g oatmeal
1 mashed banana
1 tbsp. honey
½ tsp. cinnamon
For the coating:
250g melted chocolate
1- In a large bowl, first mix the peanut butter with the powdered almond.
2- incorporate in the oatmeal so that it becomes part of the whole dough.
3- Add the mashed banana, honey and cinnamon. Stir until you get a fairly thick texture.
4- With your fingers, form small balls of equal size.
5- Place them on a baking sheet and place in the fridge for about 1 hour.
6- Once your energy balls have hardened, dip them in dark chocolate previously melted in a bain-marie. You can use a toothpick for a smoother finish.
7- Before the chocolate freezes, place sugars to make the face of the reindeer and plant fresh fir branches to mimic its antlers. Serve as a snack or as a dessert.
Present them on a bed of icing sugar for a snow effect
Recipe by Odélices.
Photo : Marie-Laure Tombini