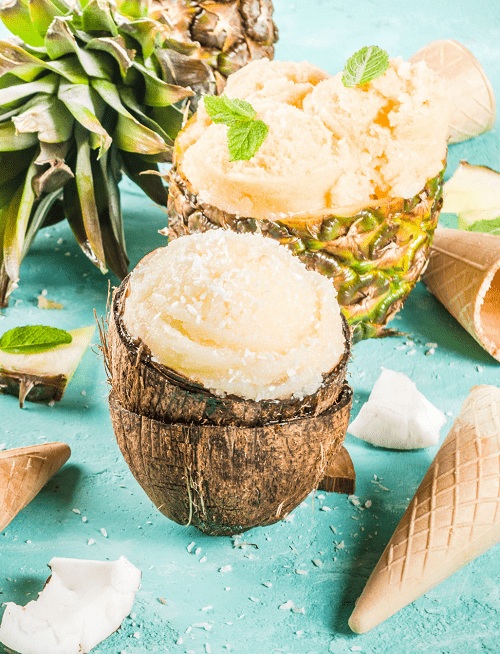 Piña colada ice cream, without alcohol, without ice cream maker
1-Put the coconut cream in the refrigerator, as well as a container large enough to beat a whipped cream.
2-Pour pineapple juice and sugar into a saucepan. Dissolve the sugar slowly and bring to a boil for 2 minutes.
3-Remove the pan from the heat and wait until the syrup cools completely.
4-Whip the coconut cream into whipped cream with a whisk or mixer and gently stir it into the syrup.
5-Add about 15g of grated coconut to your mixture
6-Return the mixture to the freezer for 3-4 hours
7-Remove ice cream 5 minutes before serving.
8-When serving, sprinkle the remaining grated coconut, and add a few cubes of pineapple.
If you do not have a container to serve your ice cream, use the skin of your pineapple as a container!
For an even smoother texture, remove from the freezer approximately every 45 minutes for 3 hours and using a hand blender mix the ice cream entirely.