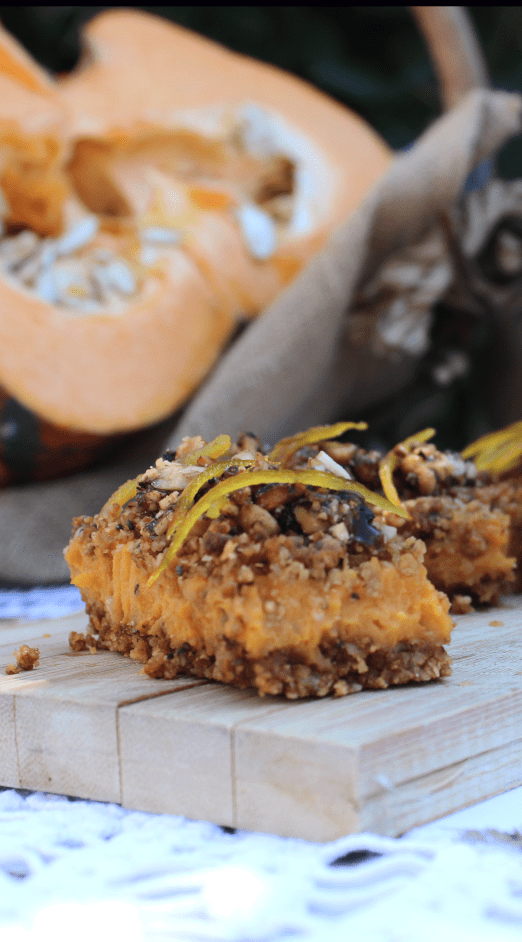 Pumpkin & Peanut Butter Bars
For the biscuit
– 1 tbsp Mamie Bio peanut butter 100%
– 100 gr almond powder
– 100 gr oatmeal
– 1 pinch salt
– 1 speculoos cookie
– 1/3 teaspoon nutmeg
– 1/2 teaspoon baking soda
– 30 g unsalted roasted peanuts
– 30 gr coconut oil
– 50 gr honey
For the peanut butter pumpkin cream:
– 2 tbsp Mamie Bio peanut butter 100%
– ¼ of a small pumpkin
– 1 teaspoon cinnamon powder
– 1 pinch salt
– 2 tsp vanilla extract
– 80 gr honey
– 2 tbsp rice flour
For the top
– Peanuts
– Maple syrup
– Orange peels
For the biscuit and the crumble:
1- For this recipe, use a rectangular lasagna mold.
Preheat your oven to 180°C. Place a sheet of baking paper in the bottom of your dish, making sure the parchment paper sticks out on at least two sides to be able removing it easely from the mold.
2- Blend the oats and almond powder until powdery.
3- Add the rest of the ingredients from the biscuit section and blend until completely combined.
4- Reserve 180 g of this preparation for the top of the bar.
5- Place this mixture in the bottom of your dish and compact it.
6- Place this in pre-cooking for 15 minutes.
7- In the meantime, take strips of peel about 2cm long and 0.5cm wide from your orange
8- Boil water with sugar, once boiling, plunge in your peels, and let cook on low heat for 20 minutes.
9- Crush your peanuts, and place them in a pan over high heat. After 5 minutes, add a little maple syrup, and let cook on low heat for 10 minutes.
For the peanut butter pumpkin cream:
1- Put your pumpkin in water, let it boil for about 30 minutes, as soon as the flesh is tender, drain it well and blend it into a puree (you need 450g).
2- Blend all the ingredients in the peanut butter pumpkin cream section together until smooth.
3- Spread the resulting mixture over the top of your pre-baked cookie.
4- Mix your orange peels and roasted peanuts with the rest of thecrumble left over, and sprinkle it all over your cream
5- Bake for 20 minutes.
6- Once out of the oven, wait for the whole thing to cool down, then unmold, and cut it into equal bars!
For even more deliciousness, add a drizzle of peanut butter on top before serving!