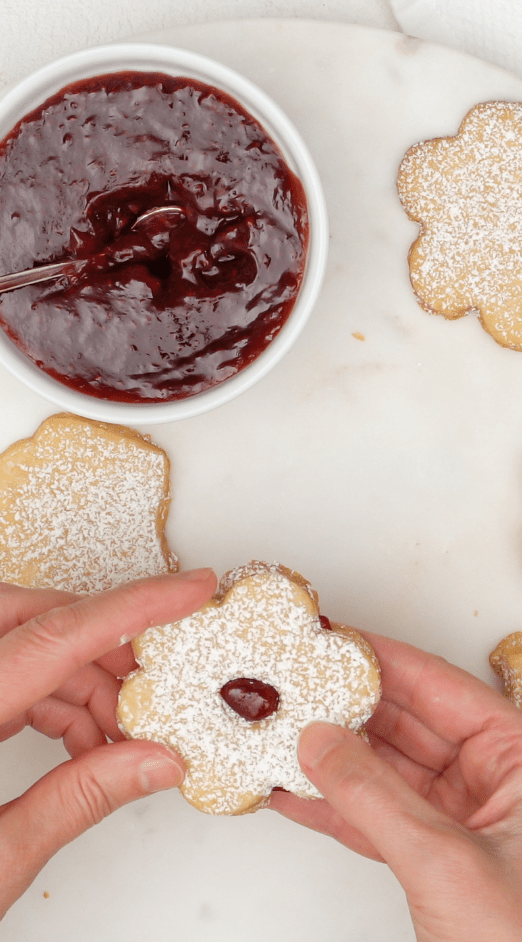 15 biscuits
10 - 12 minutes
1h20
For the biscuits.
–260 g of flour
– 140 g of soft butter
– 80g of caster sugar
– 1 egg yolk
– 1 teaspoon vanilla extract
– 1 pinch of salt
– Icing sugar
For garnish.
– 1 jar of Organic Blueberry Extra Jam 
Whisk the egg yolk and sugar until the mixture turns white. Then add the flour, vanilla extract, salt and butter, mixing well between each ingredient.
Form a ball with the dough, cover it and let it stand for 1 hour.
Preheat the oven to 180ºC. Roll out the dough so that it is 5 mm thick. Then cut the shortbread with a flower cookie cutter. For half of the shortbread, cut a pattern in the center with a smaller cookie cutter.
Place your shortbread on a baking sheet and cook for 10 to 12 minutes. The shortbread must remain clear.
Leave your cookies to cool on a baking sheet then sprinkle the "toués" shortbread with icing sugar. Cover the shortbread "full" with jam. Close the flower with a "full" cookie and a "holed" cookie.
You can revisit these cookies by changing their shape or flavor!