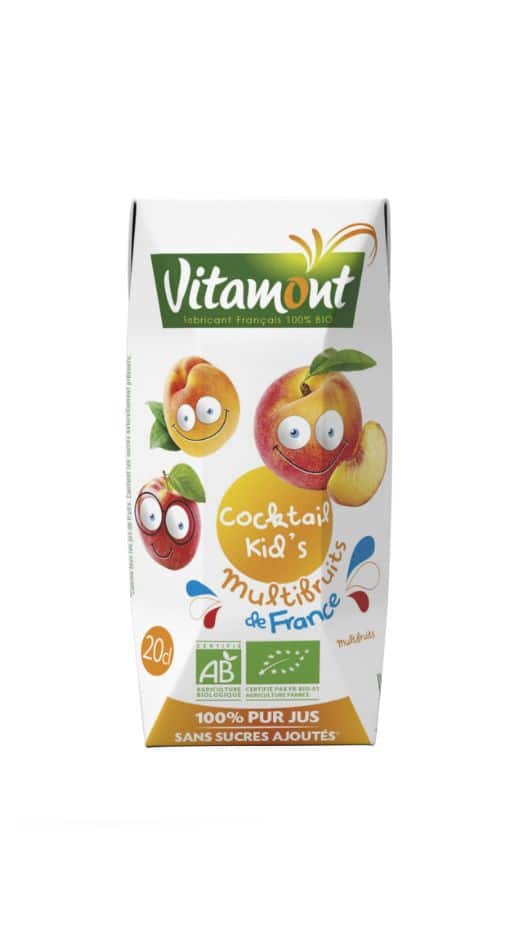 Organic Multifruits from France Cocktail kid's
The combination of apple, peach and apricot in a pure juice voted Best Organic Product 2020! It's thanks to our long-term partnerships with French farmers that Vitamont was able to gather 3 French fruit juices in the same bottle.




The Advantages:
>Fruits ripened in French Orchards
> Onctuous texture
> 100% pure juice, without added sugar
> Without disposable plastic straw
> Equipped with the pull tab system: allows to drink easily from the brick
> Perfect for children
> Unbreakable brick
> 100% recyclable packaging
> Onctous texture
Available Sizes:




still hungry ?
in this category
still thirsty ?
in this category
Nutritional Values per 100ml/100g
Volume: 20cl
Ingredients: Apple* juice (78%), peach* puree (15%), apricot* puree (7%).
*From organic farming.
Conservation advice: Refrigerate after opening and consume within 4 days.
Gencod: 3 289196260260
Nutritional Values per 100ml/100g
Energy: 186kj (44kcal)
Fat: 0g
of which saturates: 0g
Carbohydrates: 10,7g
of which sugar: 10,7g
Fibers: 0,5g
Proteins: 0g
Salt: 0g