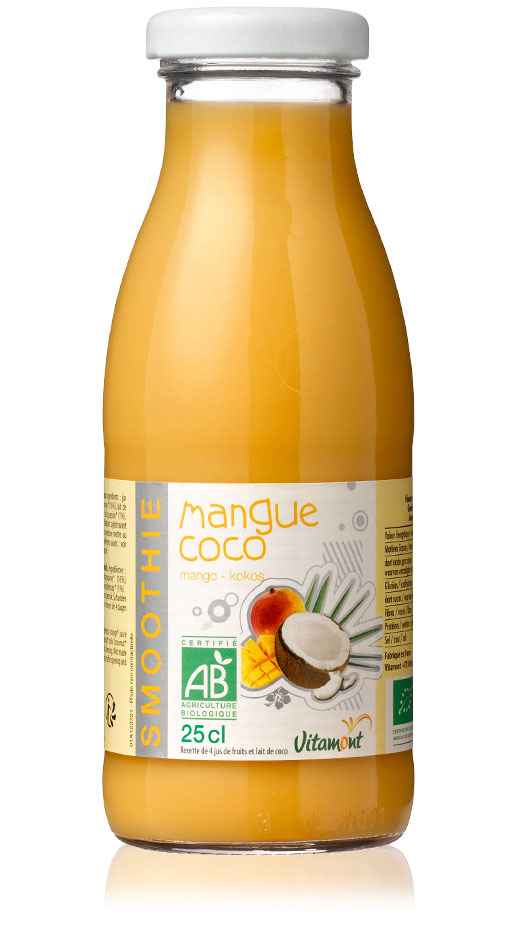 Organic Mango & Coconut Smoothie
What is sought in a smoothie is its soft and velvety texture, but also a combination of gourmet fruits. We have passed the test! Taste our coconut mango smoothie and you will regret that the bottle is so small!

The Advantages:
> Can be consumed as a drink, a snack or a dessert and cream cheese topping
> Without added sugar
Available Sizes:

still hungry ?
in this category
still thirsty ?
in this category
Nutritional Values per 100ml/100g
Volume: 25cl
Ingredients: Orange* juice (44%), banana*puree (24%), mango* puree (16%), coconut milk* (coconut pulp*, water) (15%), passion fruit* (1%).
*From organic farming.
Conservation advice: Refrigerate after opening and consume within 4 days.
Gencod: 3 289196400246
Nutritional Values per 100ml/100g
Energy: 322kj (77kcal)
Fat: 2,5g
of which saturates: 2,5g
Carbohydrates: 11,5g
of which sugar: 11,5g
Fibers: 1,4g
Proteins: 0,9g
Salt: 0g