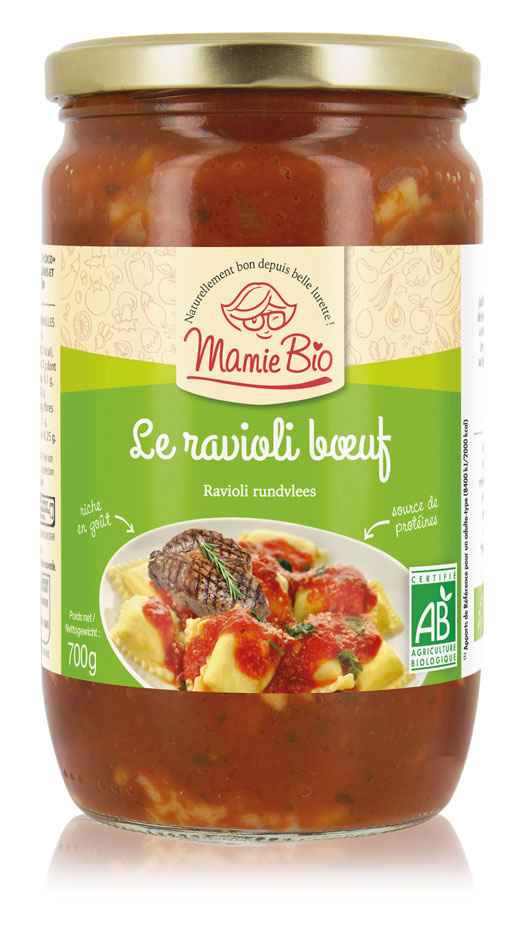 Organic Beef Ravioli
A delicious dish of ravioli stuffed with beef and accompanied by a vegetable sauce. An original Organic Mamie Bio recipe to share.

The Advantages:
> Cooked in the heart of the South
>West
> Authentic Taste
> Full-flavored
still hungry ?
in this category
still thirsty ?
in this category
Nutritional Values per 100ml/100g
Net weight: 700g
Ingredients: Sauce* 84%: water, semi-reduced tomatoes*, double concentrated tomato puree*,chopped onions* , cubed tomatoes*, carrots* in pieces, raw cane sugar*, sunflower oil*, aromates*, beef seesoning* (salt, cane sugar*, corn starch*, natural aroma of lovage with other natural aromas, beef meet*, onions*, caramelised sugar*, spices*,beef fat*), sea salt, rice flour*,black pepper*.
Ravioli* 16%: paste* 60% (durum wheat flour*, water, eggs*), stuffing* 40% (beef meet* from France 64,3%, breadcrumbs* (wheat flour*, salt), water, salt.
*From organic farming.
Storage advice: Refrigerate after opening and consume within 2 days.
Gencod: 3 700477609047
Nutritional Values per 100ml/100g
Energy: 365kj (87kcal)
Fat: 1,8g
of which saturates: 0,5g
Carbohydrates: 13,5g
of which sugar: 4,5g
Fibers: 1,8g
Proteins: 3,2g
Salt: 1,1g