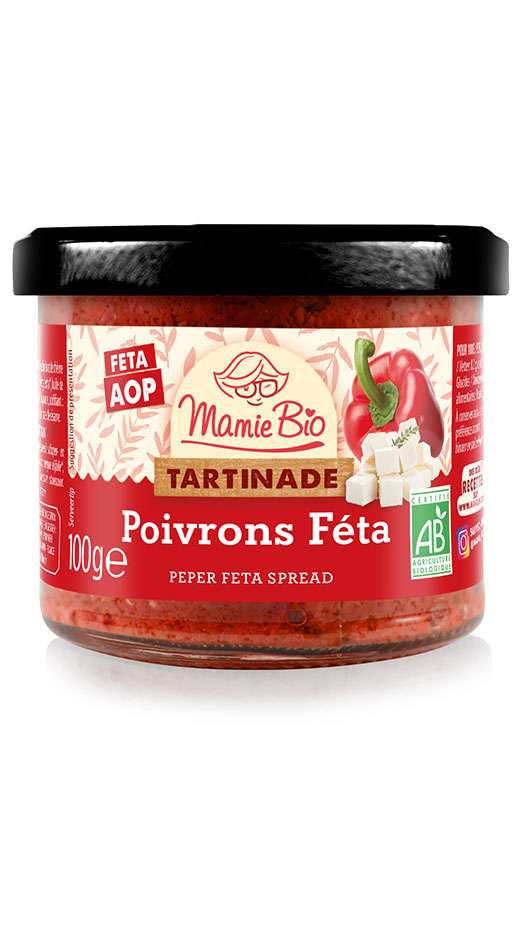 Vegetable Spread Red pepper PDO Feta cheese
Looking for recipes to snack on as an aperitif tonight? Mamie Bio has thought of you with this tasty spread with peppers and PDO feta. An original recipe to share!


The Advantages:
> An exclusive recipe with specially selected PDO feta
> A gourmet and health-friendly spread
> A recipe among the least caloric on the market
> Perfect for brunches and as aperitifs
> Vegetarian
still hungry ?
in this category
still thirsty ?
in this category
Nutritional Values per 100ml/100g
Net weight: 100g
Ingredients: Roasted red peppers* 56%, feta* PDO with pasteurized sheep and goat milk 12%, water, red peppers* 8%, sugar*, dried onions*, extra virgin olive oil*, sunflower oil*, sea salt, wine vinegar*, aromatic plants*, chili pepper* powder, acidifier: citric acid.
May contain traces of sesame.
*From organic farming.
Conservation advice: Keep cool after opening and consume quickly
Gencod: 3 289194000226
Nutritional Values per 100ml/100g
Energy: 465kj (112kcal)
Fat: 8,2g
of which saturates: 3,2g
Carbohydrates: 5,7g
of which sugar: 5,3g
Fibers: 1,9g
Proteins: 2,9g
Salt: 2,3g