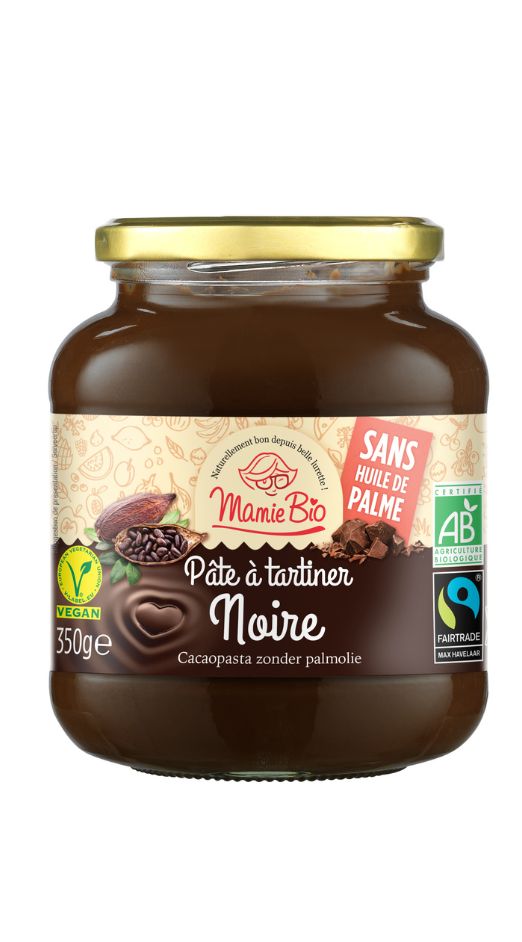 Organic Black Spread
The Mamie Bio spread rich in chocolate without palm oil and 100% yum yum!




The Advantages:
> With 30% cocoa
> Without palm oil
> With cocoa butter
> Ideal for pancakes and waffles
> Fairtrade Certified Max Havelaar>
still hungry ?
in this category
still thirsty ?
in this category
Nutritional Values per 100ml/100g
Net weight: 350g
Ingredients: Cane sugar*, sunflower oil*, low fat cocoa powder* 30%, emulsifier: soya lecithine*, Bourbon vanilla powder*.
May contain traces of milk, nuts and lupin.
Ingredients meeting the standards of the Fair Trade / Max Havelaar: cane sugar, low fat cocoa powder, Boubon vanilla powder (65% of the total weight).
*From organic farming.
Conservation advice: After opening, consume preferably within one month. Do not store in the refrigerator.
Gencod: 3 760020506698
Nutritional Values per 100ml/100g
Energy: 2304kj (554kcal)
Fat: 38g
of which saturates: 6,2g
Carbohydrates: 41,4g
of which sugar: 35,7g
Fibers: 9,4g
Proteins: 7g
Salt: 0,05g