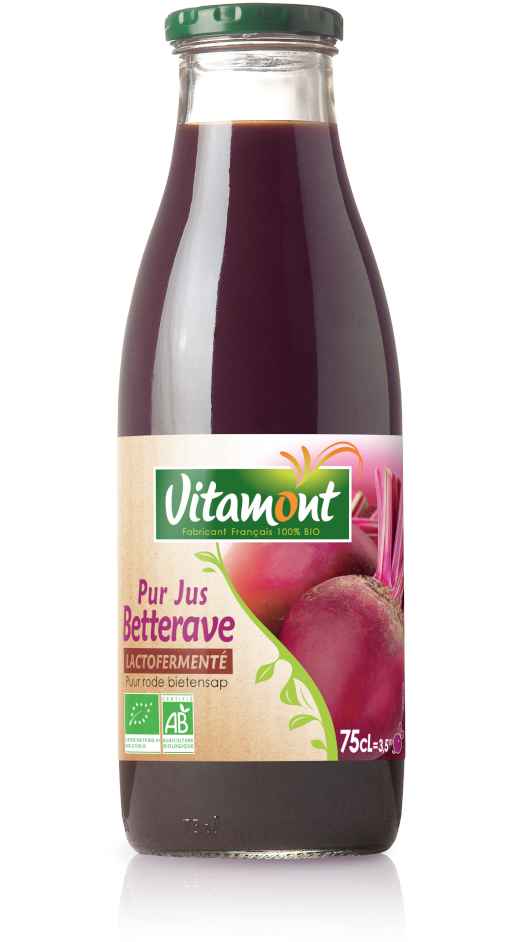 Organic Pure Lactofermented Vegetables Juice
A balanced vegetable cocktail to consume cold or hot.


The Advantages:
> The lactofermentation process lowers the pH of vegetable juices for stabilization and storage
> Lactofermentation improves food digestibility by splitting large nutrients into smaller ones (fatty acids, amino acids), creating a perfect bioavailability for the body
> Salt free
> 100% pure juice lactofermented
> Composed of 4 juices: carrot 60%, purple carrot 20%, beetroot 10%, cucumber 10%.
> The ideal range for a cure
Available Sizes:

still hungry ?
in this category
still thirsty ?
in this category
Nutritional Values per 100ml/100g
Volume: 75cl
Ingredients: Carrot* juice lactofermented (60%), purple carrot* juice lactofermented (20%), beetroot* juice lactofermented (10%), cucumber*juice lactofermented (10%).
*From organic farming.
Conservation advices: Refrigerate after opening and consume within 4 days.
Gencod: 3 289196500625
Nutritional Values per 100ml/100g
Energy: 116kj (27kcal)
Fat: 0g
of which saturates: 0g
Carbohydrates: 6,8g
of which sugar: 6,8g
Fibers: <0,5g
Proteins: 0g
Salt: 0,12g