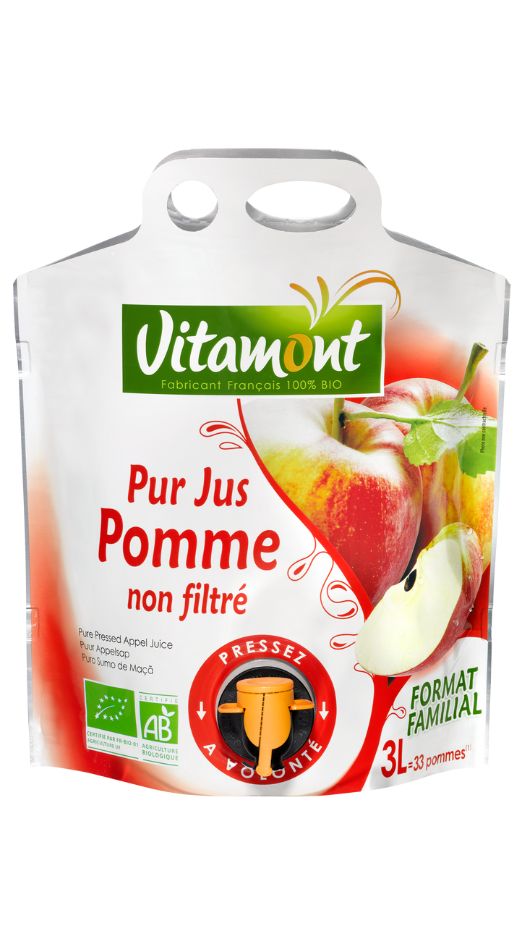 Pure Organic Apple Juice unfiltered
All the flavor and benefits of apple in an unfiltered organic juice.


The Advantages:
> Sweet and balanced flavour
> Easy to handle thanks to the pressure tap
> The production of 3 Liters of juice requires about 33 apples on average
> A format easy to carry
> Unfiltered = the benefits of the fruits are preserved
> The cloudy aspect comes from the presence of polyphenols, known for their benefits
> 100% pure juice, without added sugar
Available Sizes:






still hungry ?
in this category
still thirsty ?
in this category
Nutritional Values per 100ml/100g
Volume: 3L
Ingredients: Apple* juice.
*From organic farming.
Conservation advice: After opening refrigerate and consume within 3 weeks.
Gencod: 3 289196580283
Nutritional Values per 100ml/100g
Energy: 185kj (43kcal)
Fat: 0g
of which saturates: 0g
Carbohydrates: 10,9g
of which sugar: 10,9g
Fibers: <0,5g
Proteins: 0g
Salt: 0g