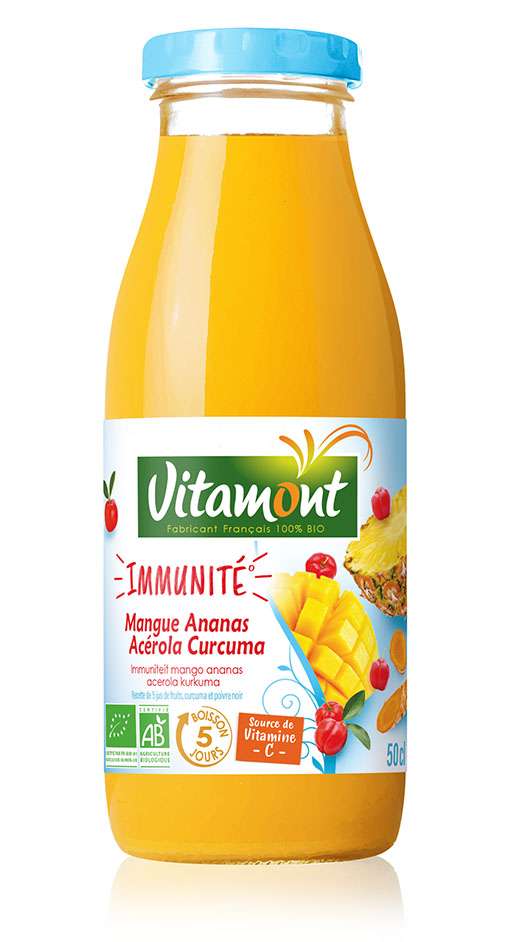 Immunity juice – mango pineapple acerola turmeric
The combination of turmeric and pepper enhances the fruity flavors of this tasty exotic cocktail with mango, pineapple and acerola. A real delight!



The Advantages:
> Natural Source of Vitamin C
> Helps reduce fatigue
> Protects cells against oxidative stress
> Fruit juice rate of at least 50%
> Ideal in cure of 5 days: drink 10cl each morning as it is or diluted
> Without added sugar
Available Sizes:

still hungry ?
in this category
still thirsty ?
in this category
Nutritional Values per 100ml/100g
Volume: 50cl
Ingredients: Apple juice* 31%, water, mango puree* 23%, pineapple juice* 11%, turmeric puree* 2%, acerola puree* 2%, aqueous black pepper extract* 1%, passion fruit juice* 1%.
*From organic farming.
Conservation advice: Refrigerate after opening and consume within 5 days.
Gencod: 3 289196700049
Nutritional Values per 100ml/100g
Energy: 162kj (38kcal)
Fat: 0g
of which saturates: 0g
Carbohydrates: 9,1g
of which sugar: 7,3g
Fibers: <0,5g
Proteins: 0g
Salt: 0g
Vitamin C: 12mg