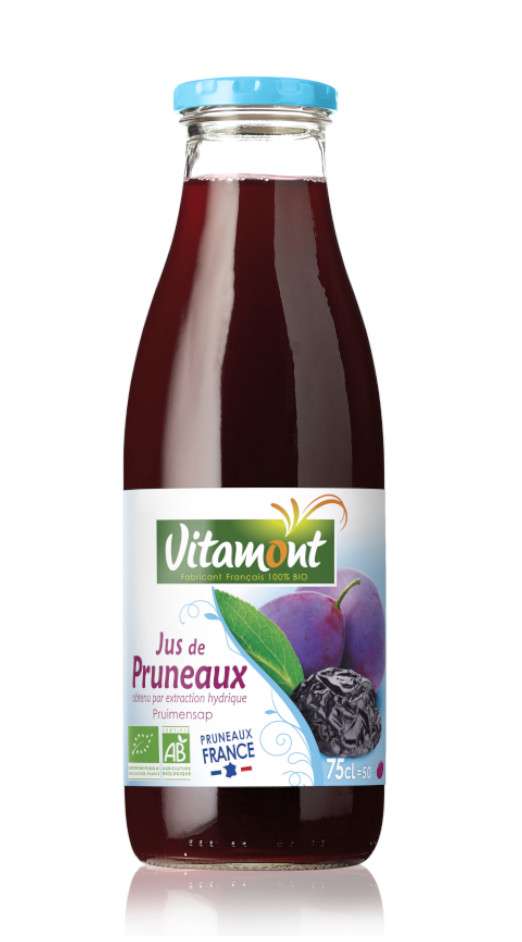 Organic Prune Juice from France
A prune juice that is both gourmet and well-being.



The Advantages:
> Our prune juice is made from dried plums, the "Prune d'Ente", traditional variety of the Agen prune.
> The fruits are harvested and dried in the orchards of the South-West, not far from the manufacturing and packaging workshops of our product.
> Our juice is a natural source of potassium, which contributes to the normal functioning of the nervous system
> With prunes from France
> The production of 1 liter of juice requires about 50 prunes of 6,5g on average.
Available Sizes:


still hungry ?
in this category
still thirsty ?
in this category
Nutritional Values per 100ml/100g
Volume: 75cl
Ingredients: Prune juice obtained by water extraction*.
*From organic farming.
Conservation advice: Refrigerate after opening and consume within 4 days.
Gencod: 3 289196500304
Nutritional Values per 100ml/100g
Energy: 217kj (51kcal)
Fat: 0g
of which saturates: 0g
Carbohydrates: 12,8g
of which sugar: 12,8g
Fibers: 1,4g
Proteins: 0g
Salt: 0g