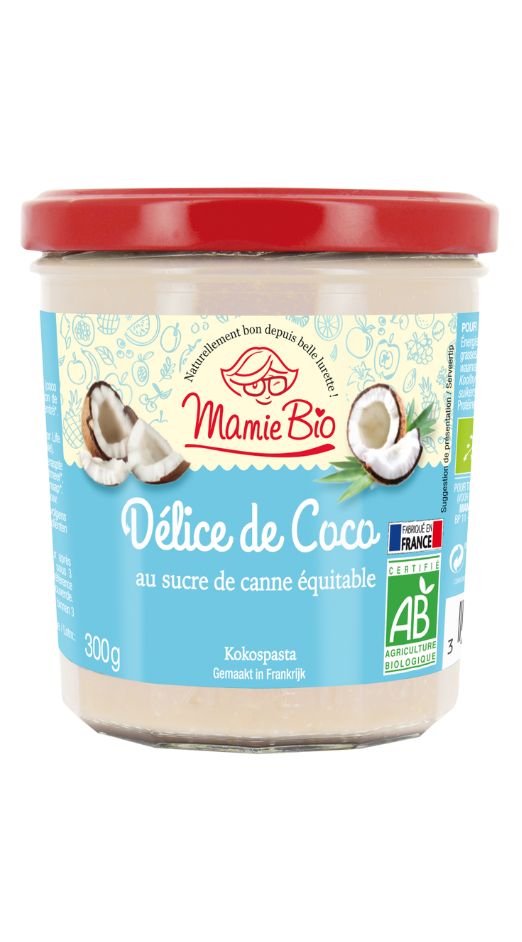 Organic Coconut's Delight
A generous and gourmet recipe rich in coconut, to spread right now!


The Advantages:
> Grated coconut slices
> Ideal for breakfast, dessert, snack or pastry
> Ultra gourmet recipe idea: a slice of brioche, a layer of coconut delight, a layer of crunchy spread! 100% yum yum!
still hungry ?
in this category
still thirsty ?
in this category
Nutritional Values per 100ml/100g
Net weight: 300g
Ingredients: Water, coconut* 37% (coconut*grated, coconut* milk), cane sugar*, manioc*starch,gelling agent: pectins, lemon juice* concentrate.
*From organic farming.
Conservation advice: Refrigerate after opening and consume within 2 weeks.
Gencod: 3 456300007695
Nutritional Values per 100ml/100g
Energy: 1086kj (260kcal)
Fat: 15g
of which saturates: 13g
Carbohydrates: 27g
of which sugar: 22g
Fibers: 4,7g
Proteins: 2g
Salt: 0,05g